Current Category: CPR Supplies & Equipment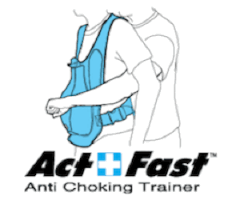 Act Fast LLC
PO Box 5271
El Dorado Hills CA 95762

Used worldwide by leading Safety, First Aid, BLS and CPR instructors, the Act+Fast Anti Choking Trainer allows students to learn and practice the Abdominal Thrust Maneuver (Heimlich) in a realistic and effective way. When correct hand placement and technique are used, a foam plug shoots from the Trainer, instantly providing strong feedback that leaves students confident and ready to act.
Described by the Journal of Emergency Medicine (JEMS) as, "one of the most innovative, functional and potentially lifesaving products to come onto the EMS market." Since its introduction in 2008, millions have learned hands-on Choking Rescue on the Anti Choking Trainer in over 50 countries.
2 Available Protocol Models:
Red Trainer w/Back Slap Pad for American Red Cross Protocol Training
Blue Trainer for American Heart Association Protocols.
Who Uses The Anti Choking Trainer?
• American Red Cross Chapters
• Restaurants
• Flight Crews
• National Park Services
• Nursing Homes
• Homeland Security
• EMS Training Academies
• Schools, Colleges
• Boy Scouts, Girl Scouts
• US Army, Air Force, Navy, Coast Guard
• American Heart Association Instructors
• Safety Training Organizations in 50 Countries
Phone:

855/934-9340

Fax:

916/934-0858

Email:

info@actfastmed.com

Home Page:

Categories: